Two weeks and counting
Hey all!
Two weeks and four days until race day. I'm not really sure how I feel about that… but let's back up a little.
I have been getting in some decent runs in the past few weeks and feel pretty good.. Sort of. Last Friday night, I prepared all of my things for a long run the next morning; my lip chap, Gu chomp's, water, halls (I still have my cough).. you know, all the goodies. But I had also charged my iPod just in case I had to run on the treadmill. It was crazy windy out, there was gust winds of I don'tknowhowhigh but it was even difficult walking as it felt like it was going to blow me over. I woke up early Saturday morning to the winds howling and decided I would hit the gym up instead and challenge myself with a 22km run on the dreadmill. I'm always up for a good challenge…
Well, I get everything set up (yes, I'm an organized freak) and start a run'n. I felt so good and knew with the way that I was feeling, I could for sure do it. I found my rhythm, had a good pace going and thankfully didn't fall off the treadmill. Bonus! About 40 minutes into my run, I started to feel like I was going to pass out and things got blurry. It was frustrating because I was feeling so good in the beginning! I took two Gu chomps, drank some water but couldn't shake it for some reason. Not only did I need to get my long run in but WANTED to as well!  I pushed myself to 60 minutes, 6.8 miles, took a break for a few minutes and tried again but stopped within the first 5 minutes. How embarrassing would be that to pass out at the gym? No thanks. I was disappointed but reminded myself that the important thing is that I tried and felt like the run that I did complete was a quality run.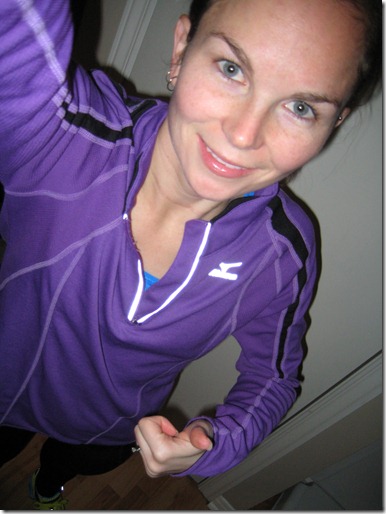 Sunday morning came around and I pushed myself out the door for a solid 14km run. I was happy to get my legs moving but even happier that the winds had died down quite a bit! But I still really want to get another long run in before the 25th, more so mentally than physically. Ok, maybe both. I don't know.  30km is FAR and I want to make it across that finish line whether I'm running or crawling. Hopefully I'll cross it running strong though! Is it a bad idea if add a long run into my training? Come on you experienced runners out there, I need our advice!! 
—————————————–
I have been baking a lot and experimenting with some recipes lately.. mainly muffins and loaves (yes, I need to expand my horizons a bit, I know) but they have been turning out great and the boys love them. These "Banana Chocolate Chip Oatmeal" were a big hit and definitely my favourite. I had planned on sharing the recipe with you but somehow the piece of paper I scribbled the recipe on got thrown out.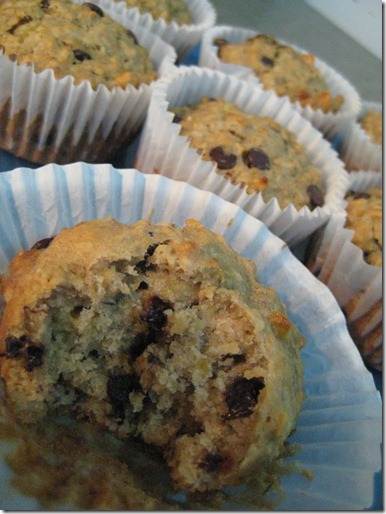 Oopsies.
———————————————-
What's your workout today?
~ a TRX workout and a ZUMBA class!
How many of you watched The Bachelor on Monday and what did you think of Courtney?
~I'm ashamed to say that I look forward to watching The Bachelor every week and unfortunately, I think her apology is too little too late for a lot of those girls.