Motivation
This page is all about YOU!  
I want to hear from YOU! Send me a picture of you from your favorite race, workout, or heck doing anything that you love to do(only appropriate pictures please..haha). If you want, tell me one high and one low from that specific race or workout. 
My hope is that this will INSPIRE us, give us STRENGTH, makes us LAUGH and ACCEPT us for who we are. Let's put those excuses behind us and start NOW.    Run hard, Eat well, Live better! 
Email me at: sabrina@radioactiverunner.com
        ———————————————————————————————– 
Janae @ HUNGRY RUNNER GIRL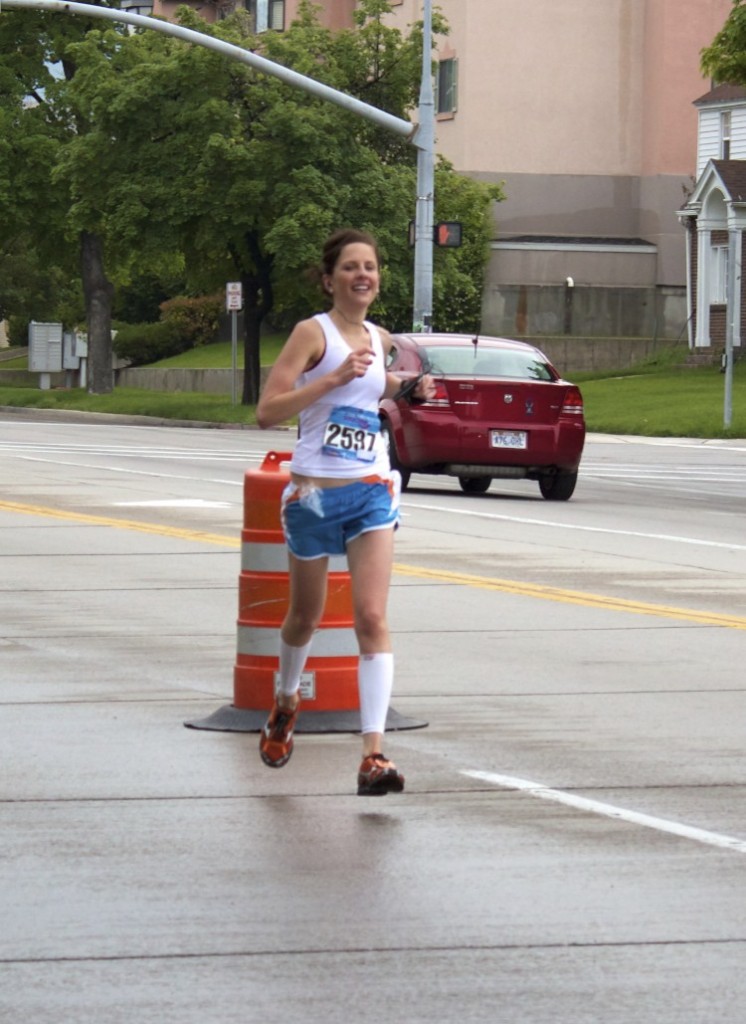 When did you realize that long distance running is your niche?
I realized my love for long distance running after my first 20 miler while training for my first marathon.  I finished the run feeling like a million bucks and wanted to do it again the next day (don't worry I didn't).  It was during this first marathon training cycle that I realized that our bodies are capable of doing so much more than we think.  It made me crave pushing myself to the limit and seeing how far and how fast I could go.  It was the best form of stress relief I could find and I realized how much I loved and needed the endorphins after finishing a long run.
When you're in a funk, how do you motivate yourself to get out the door for a run?
Getting in a funk in terms of running is VERY normal.  Every single runner experiences this at some point and it is important to remember that we all go through this, it is part of the sport.  I just tell myself to get out and run for 15 minutes and then I can come home and get back in bed after that.  What ends up happening is that by 15 minutes into the run I am really starting to warm-up and enjoy myself and I keep going and complete my run.  I think that it is also necessary to accept the funk as a way that your body is telling you that you need to slow down and take a break.  Use that funk to rest and recover and when you feel like hitting the pavement again you will feel better than ever.
You look like you are in top shape but you also post a lot of pictures of some really good food and sweets.. do you really eat it all?! :)
Yep, 100% of it.  I workout a lot and I must have a good metabolism or something because I eat everything that you see on my blog.  My sister is the same way and we are both able to eat quite a few sweets and fries without it affecting us but we also eat a ridiculous amount of vegetables and fruits and work out a lot. 
Has it been hard adjusting your mileage and workout plan since finding out you were pregnant?
Yes and no.  It has been a much needed break for me mentally and physically.  I am not stressed about times anymore and if I am too tired than I simply let myself rest, skip my workout and move on.  I have cut my mileage down about 15 miles a week and have also slowed down a lot.  It has been hard to be passed at races especially when I wasn't showing:)  I am quite the competitive person and don't like getting passed but now is the time where my babies health comes first and so I simply have to slow down.  
The best part about running while pregnant is that I always have the best little running buddy with me for every run.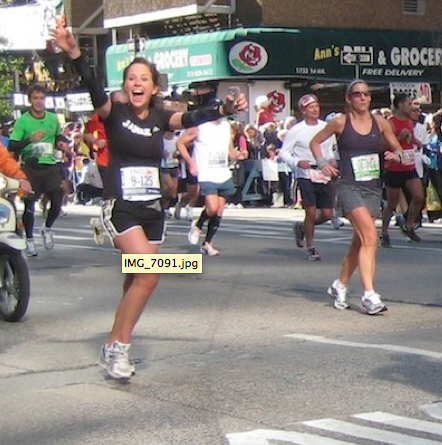 —————————————————————————————————————————–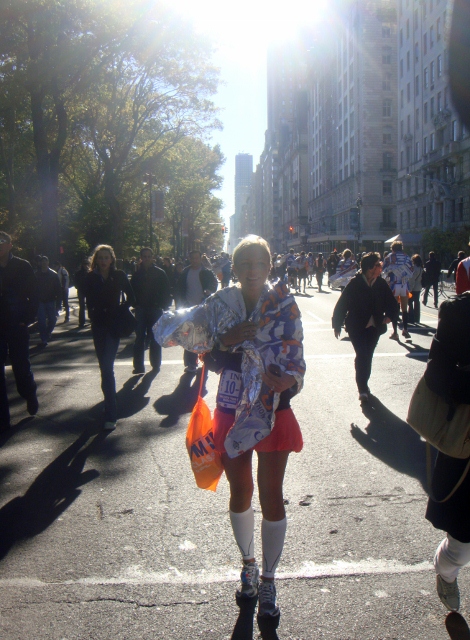 Favorite race for SkinnyRunner to date: the NYC Marathon. "It was so over the top exciting and fun that i loved the whole thing"
Thanks SR for the photo.. you are awesome and inspire so many!
      ——————————————————————————————
My low for this race was that it was sweltering hot out and I forgot my water bottle. It was SO hot and humid. I have two highs: 1) the race was in my home community.. it's always fun running local races and knowing lots of people. 2) a lot of my family came to cheer me on!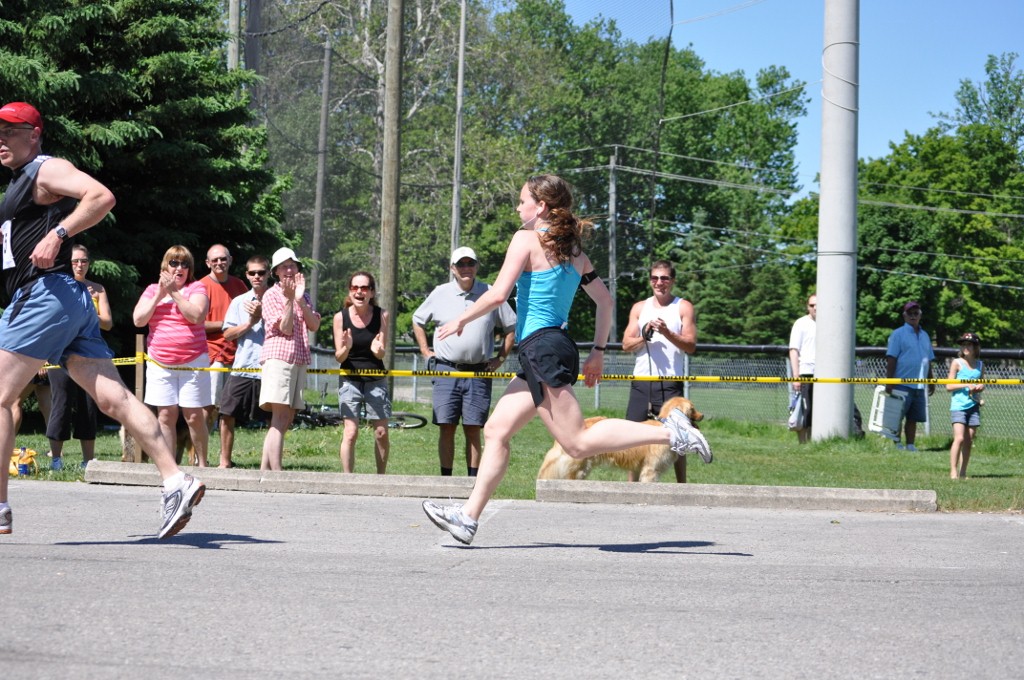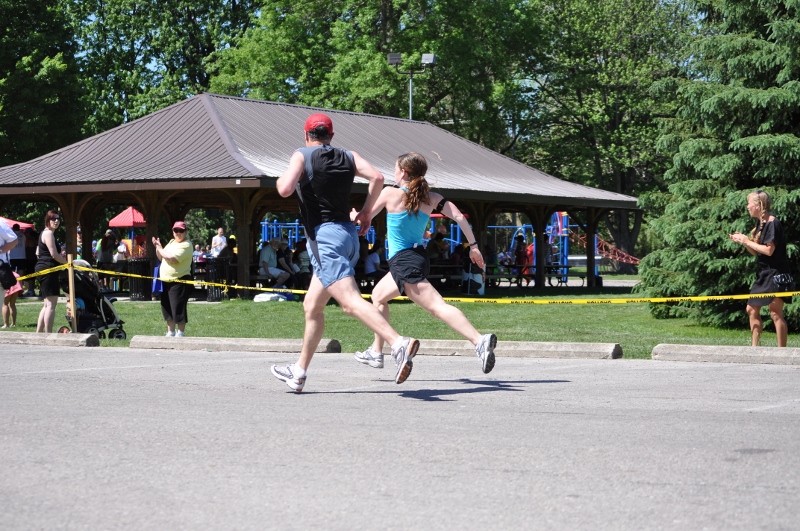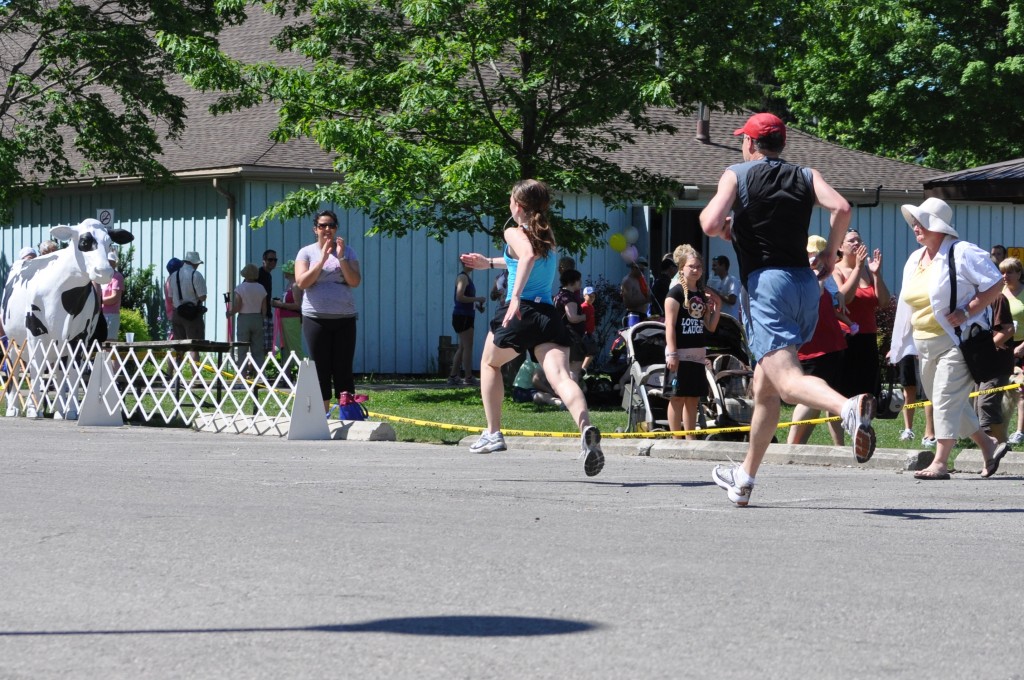 Niagara Falls half marathon
high: I actually finished the race in 2hrs without falling on my face       low: I was so sick and to make it worse it was a boring course and super windy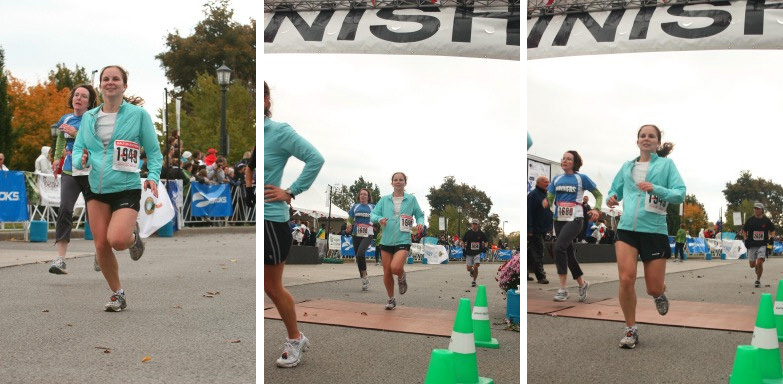 ———————————————————————————————-