Sweet things in life
Happy Monday!
It is a balmy 27 degrees here today and it feels amazing!
This weekend, I was blessed with all of the important things in life that I talked about here over at Fit Approach.
Friday, G-Man and I had an impromptu date night since both of the boys were at birthday parties. Being the obsessive organized, planner that I am, it was a fun and relaxing night for the two of us. I know I've said it before but I have to say it again, I sure lucked out and really do have the best.husband.ever. G-Man works so hard everyday yet he always makes the effort to make time for me and shows me every.single.day. just how much he loves me.

Saturday afternoon we headed to my parents because the next day, I had a bridal shower to go to for one of my girlfriends who I've known for over fourteen years. Wow, I feel soo old writing that. It was nice to have a quick visit with my parents and see some of my best girlfriends. There is lots going on in all of our lives so it's always nice to catch up when we can.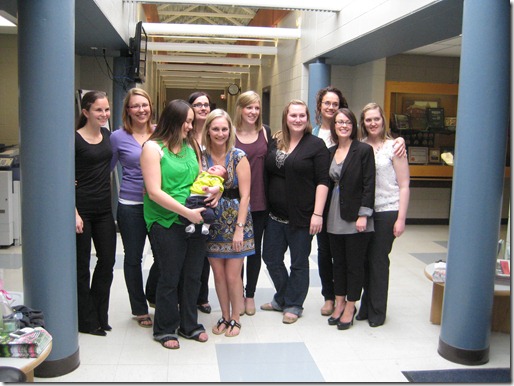 This was our first group photo with the new addition… and we just love him to pieces! Time well spent with loving family and forever friends? Check!
———————————————–
In regards to exercising, after waking up early to my blaring alarm Saturday morning, not knowing where I was or what day it was, I sleepily climbed into my workout gear and did Jillian Michael's 30 Day Shred DVD. It felt good to get my sweat on and get the heart pumping. With the need for movement still present but short on time, I sprinted around the block – about 1km. Love that feeling of my arms pumping hard and legs moving fast.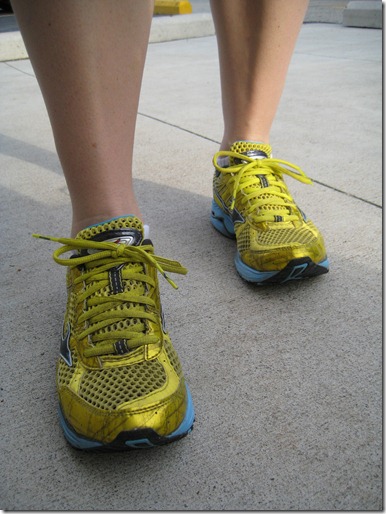 Guess what I did Sunday morning? I WENT FOR A RUN WITH MY MOM!!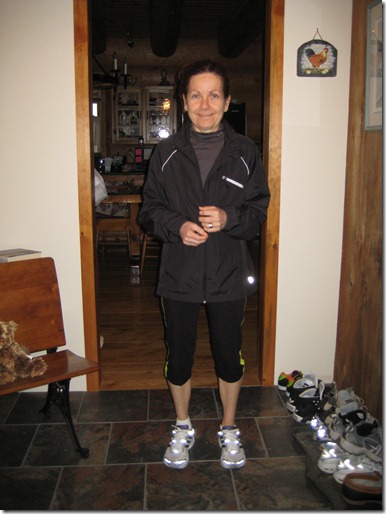 She is trying out a running group at her gym and 5km was on her training plan. She asked me to run it with her; it was SO FUN and she did AWESOME! She is actually pretty speedy. I am not only impressed but SO proud of her for trying something new.
It was foggy, humid and raining but we still got out the door. After running 5km with mi Madre, I went back out for a speedy 6km. It felt so great to be running along the country roads again, on a familiar route that brought back so many memories. I actually ran a personal best too… I don't know if it was from the pouring rain or the motivation I got from running with my Mom but I loved it! My shirt was literally weighing me down by the end of my run. As I was finishing up my Mom was heading out the door to come and get me.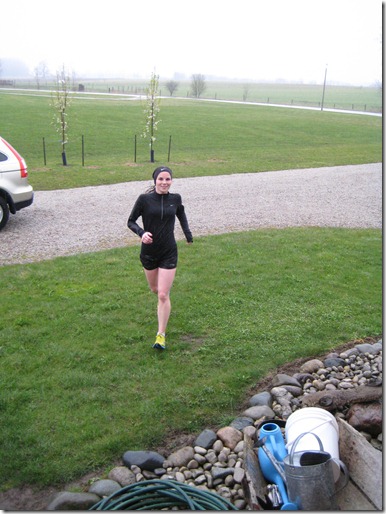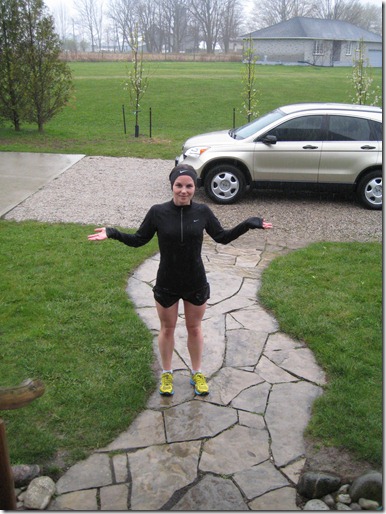 —————————————–
I have been thinking of all those who ran Boston this morning, especially those that I know, and hope all were able to complete their goals and finish strong!!
What's the highlight from your weekend?
~everything… seeing my girls, spending time with my man and visiting with family!

Do you live close to your family?
~I live about an hour and a half from mine.. so not too far

Tags: best husband ever, fit approach, GMan, rainy day, running